Kiwi and strawberry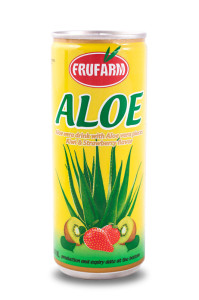 The mixed kiwi and strawberry juice is an incredible taste explosion, and also gives you the opportunity to enjoy the benefits of both fruits:
Strawberry:
The strawberry juice helps burning stored fat. It also boosts short-term memory. The strawberry has a low calory value, but is high on fibre contents. It also improves vision.
Кивито:
The kiwi juice boosts digestion by providing additional enzymes. It helps controlling blood pressure. The kiwi boosts your immune system and helps you cope with the toxins stored in the body. It helps fighting obesity. It also improves eyes and skin health.
Contents: natural strawberry and kiwi juice, sugar, citric acid, vitamin C, strawberry and kiwi flavours, purified water.
One can (240 ml) contains

%RDA*
Calories 140
Fat calories 0
Total fats
0g
0%
Saturated fats
0g
0%
Trans fats
0g
0%
Cholesterol
0mg
0%
Sodium
25mg
1%
Total carbohydrates
32g
11%
Fibres
0g
0%
Sugar
31g
Protein
0g
0%
Vitamin C
30mg
50%
*Recommended daily amount based on a diet of 2000 calories daily intake.
Storage: After opening – in a cool place.
Manufacturer: Korea
Imported by: official representative