Red grape with pieces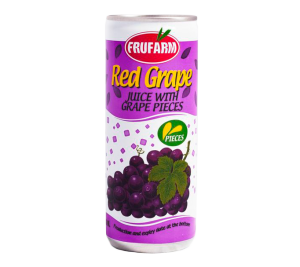 The red grape juice boosts some brain processes like memory and concentration. It is important for the prevention of cardiovascular diseases. Also, red grapes is the fruit with highest concentration levels of flavonoids, which are antioxidants.
Contents: natural grape juice concentrate, grape pieces, sugar, citric acid, vitamin C, grape flavour, purified water.
One can (240 ml) contains

%RDA*
Calories 140
Fat calories 0
Total fats
0g
0%
Saturated fats
0g
0%
Trans fats
0g
0%
Cholesterol
0mg
0%
Sodium
35mg
1%
Total carbohydrates
35g
12%
Fibres
0g
0%
Sugar
35g
Protein
0g
0%
Vitamin C
30mg
50%
*Recommended daily amount based on a diet of 2000 calories daily intake.
Storage: After opening – in a cool place.
Manufacturer: Korea
Imported by: official representative