Strawberry with pieces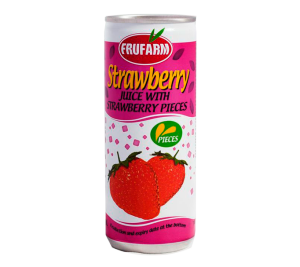 The strawberry juice helps burning stored fat. It also boosts short-term memory. The strawberry has a low calory value, but is high on fibre contents. It also improves vision.
Contents: natural strawberry juice, sugar, citric acid, vitamin C, strawberry flavour, purified water.
One can (240 ml) contains

%RDA*
Calories 140
Fat calories 0
Total fats
0g
0%
Saturated fats
0g
0%
Trans fats
0g
0%
Cholesterol
0mg
0%
Sodium
25mg
1%
Total carbohydrates
36g
12%
Fibres
0g
0%
Sugars
35g
Protein
0g
0%
Vitamin C
30mg
83%
*Recommended daily amount based on a diet of 2000 calories daily intake.
Storage: After opening – in a cool place.
Manufacturer: Korea
Imported by: official representative