Aloe with pieces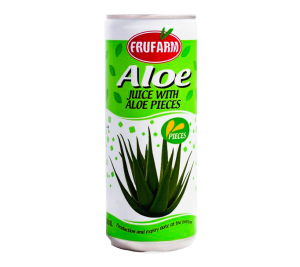 The Aloe Vera juice is the pearl in our product range, and here is why:
The juice contains a large range of vitamins like A, C, E, folic acid, B1, B2, B3, B6. Also, it is one of the few fruits containing vitamin B12.
It contains over 20 minerals, some of which are potassium, magnesium, zinc, chromium, selenium, sodium, iron, copper, manganese.
Contains high level of aminiacids and fatty acids.
Aids digestion.
Aids detoxication.
Alkalises the body.
Reinforces the immune system.
Rejuvenates the skin.
It has disinfencting, antibiotic, antimicrobial, bactericidal, antibacterial, antiseptic, antifungal and antiviral effect.
Helps fighting obesity.
Contents: aloe vera gel, aloe vera pieces, sugar, citric acid, vitamin C, aloe vera flavour, purified water.
One can (240 ml) contains

%RDA*
Calories 140
Fat calories 0
Total fats
0g
0%
Saturated fats
0g
0%
Trans fats
0g
0%
Cholesterol
0mg
0%
Sodium
70mg
3%
Total carbohydrates
31g
10%
Fibres
0g
0%
Sugar
30g
Protein
0g
0%
Vitamin C
30mg
50%
Calcium
25mg
3%
*Recommended daily amount based on a diet of 2000 calories daily intake.
Storage: After opening – in a cool place.
Manufacturer: Korea
Imported by: official representative